Facials
Enjoy fresh, glowing and revitalized skin with one of our expert treatments that have been perfectly tailored to your needs. Book in for your facial treatment today and our team of expert therapists will prescribe the ultimate skin care program for you, whatever your concern.  All facials include a full skin consultation, are results orientated and customised to meet the needs of your skin.
Renewal Facial
 30 mins
$99
High Performance Facial
 60 mins
$200
Skin Booster Treatments Designed to specifically target & maximise results.
If you are concerned about a specific skin condition, your therapist may recommend a Booster Treatment to target and maximise your results.
Collagen Eye Treatment $40
Intensive Skin Therapy $40
Intensive Lip Treatment $40
Power Exfoliant $40
---
Microdermabrasion
With microdermabrasion everyone has the opportunity to experience spectacular skin that is smoother, younger, brighter, firmer and with a course of treatments, potentially blemish free.
Essentially a deep exfoliating treatment, the benefits of microdermabrasion for your skin are multiple and the results are outstanding. From day one you will see an immediate visible result with your skin feeling velvety soft with a healthy glow. This makes the procedure perfect as a pick-me-up before a special event.
This treatment is also extremely effective when used repeatedly, and combats ageing, fine lines, open pores, flaky or dry skin, acne scarring and rough textured skin.
The procedure is gentle, with an initial deep cleanse followed by the microdermabrasion, where the hand piece is moved over the skin, gently vacuuming away dead skin cells and debris that can clog the pores. After the exfoliation, an intensive hydration mask is applied to the skin, followed with a sunscreen.
For optimal results a course of treatments are recommended.  A treatment program will be tailored to suit your individual skin concern.
Face
$129
Face & Neck
$150
Face, Neck & Decolletage
$195
Hands
$60
---
Hydro Microdermabrasion
This treatment will leave your skin immediately lighter, brighter and simply luminous.
Hydro Microdermabrasion is the latest technology in professional skin resurfacing.  Experience a dramatic difference instantly with hydration & plumping of your skin.  Whether your skin is oily, dry, a combination of both or prone to breakouts, your skin will be rejuvenated. For long lasting results, we recommend a course of treatments.
Instant plumping
Instant smoothness of skin
Refines texture and pores of skin
Gives the skin a healthy glow
Major hydration of skin
| | |
| --- | --- |
| Face | $179 |
| Face & Neck | $225 |
| Face, Neck & Decolletage | $250 |
| | |
---
Peels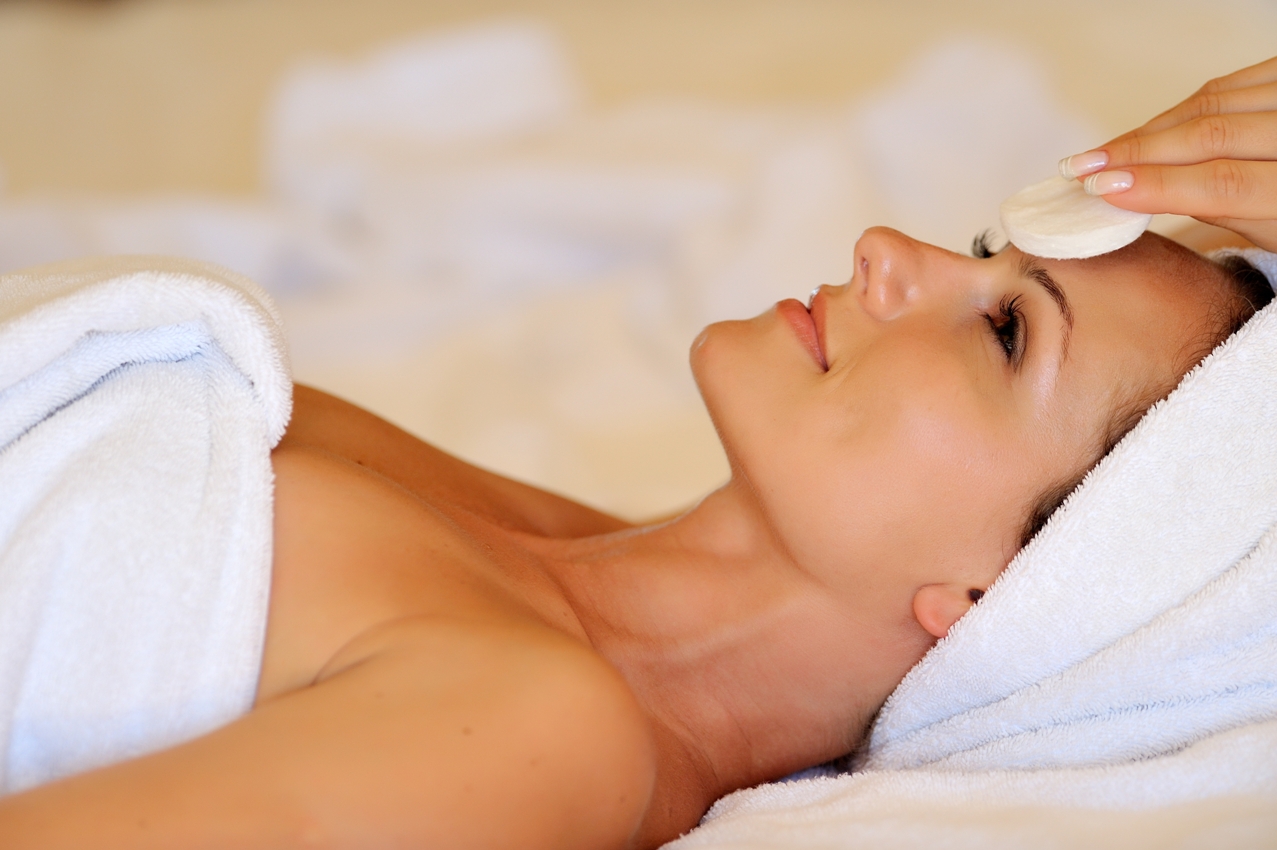 Reveal younger, fresher, healthier skin that will be wonderfully hydrated with a radiant glow using one of our professional peels. A combination of lactic, glycolic and salicylic acid provides your skin with a smoother texture, tightened pores and minimizes wrinkles. It also reduces acne and light scaring and shows increased radiance and hydration.
For optimal results a course of treatments with our professional strength peels is recommended. Depending on the skin problem, a specific treatment program can be tailored to suit each person to help rejuvenate and revive the skin.
| | |
| --- | --- |
| Face | $129 |
| Face & Neck | $150 |
| Face, Neck & Decolletage | $195 |
| Hands | $60 |
| Programs available | |
---
Photorejuvenation
With 17 years of experience, results and knowledge combined with world-leading IPL technology, you can be sure that your skin and complexion is in safe hands with Simply Elegant.
Photorejuvenation is the ultimate skin treatment, bringing younger, firmer, glowing skin.  Known as both Photo and Skin rejuvenation, this exciting breakthrough treatment allows you to say goodbye to skin problems like pigmentation problems, ageing, sun damage, brown spots, redness, broken capillaries and rosacea.
The treatment is tailored to your individual skin concerns and provides superior cosmetic results.  By treating a variety of skin conditions with one simple treatment, it's easy to see why Photorejuvenation is often considered the most effective cosmetic skin treatment available today.
Photorejuvenation will remove skin imperfections, improve the texture and tone of your skin and create a clear complexion. Following a full consultation a treatment plan will be personalized to achieve your optimal results.
Face
$395
Hands
$195
Décolletage
$395
Face, Neck & Décolletage
$545
Face & Neck
$450
Spot Treatments
from $120
Neck
 $150
Photorejuvenation Program combined with Microdermabrasion will maximise the overall result to your skin.  An 8 week program including in salon treatments and homecare products designed to achieve optimal results.
3 Photorejuvenation Treatments
2 Microdermabrasion Treatments
1 Sunscreen SPF 30
1 Skin Pack including Cleanser, Toner, Moisturiser
| | | | | | |
| --- | --- | --- | --- | --- | --- |
| Face Program | $1400 | | | | |
| Face, Neck Program | $1550 | | | | |
| Face, Neck & Decolletage Program | $1850 | | | | |
| Face, Neck, Decolletage & Hands Program | $1950 | | | | |
| | | | | | |
---
Hair Removal – Waxing:
| | | | | | |
| --- | --- | --- | --- | --- | --- |
| Lip | $17 | Eyebrow Shape | $25 | Full Face | $50 |
| Underarm | $25 | Basic Bikini | $30 | Extended Bikini | $40 |
| Chin | $17 | Arms & Hands | $45 | 1/2 Legs | $45 |
| 3/4 Legs | $50 | Full Legs | $60 | 1/2 Legs & Basic Bikini | $70 |
| Full Legs & Basic Bikini | $80 | Back | $50 | Chest | $50 |
---
IPL Permanent Hair Reduction:
Are you sick of having to shave or wax over and over? Want glowing, smooth skin year round? IPL Hair Removal is a safe, long lasting solution for unwanted hair and is one of our most popular treatments.  If you have never experienced Intense Pulse Light (IPL) then this is a fabulous way of removing unwanted hair quickly and easily. Start now and you can be hair free and ready within a few months.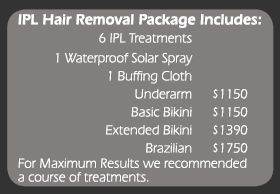 The service effectively reduces hair growth and after only one treatment you will notice a 20% hair reduction. This treatment also removes ingrown hairs. It is more advanced than lasers and can treat most skin types and hair colour. Our IPL is up to four times more powerful than any other IPL and delivers superior results to your skin. Complimentary consultations are always available and welcomed.
Never have to wax again.
Say goodbye to ingrown hairs.
Complimentary consultations.
IPL offers safe, effective and permanent solutions to hair reduction.
Less invasive than other treatments.
High quality of care to clients before, during and after your treatment.
Prices are per treatment per area. Easy payment plans now available.  Packages available.
Lip
$120
Full Face
$300
Chin
$140
Extended Bikini
$320
Sideburns
$150
Brazilian
$380
Underarm
$280
1/2 Leg
$500
Basic Bikini
$280
Back or Chest
$600
---
Relaxation Packages: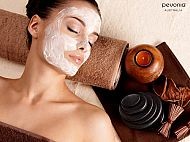 Whether for a special event, an indulgent treat or well deserved time out, all of our luxurious salon packages have been designed for total body relaxation.
Indulge yourself or a friend or loved one and reconnect with your inner you.
Relax and Unwind Package:
Back, Neck & Shoulder Massage, Hydration Facial, and a relaxing foot massage.
45 mins
$100
Renew Package:
Full Body Massage, Renewal Facial, warm Hand Paraffin Infusion.
90 mins
$200
Please click here for our Gold Class Packages:
https://www.simplyelegantgoldclass.com.au/gold-class-packages/
---
Hands and Feet
Nothing completes a look like the refined elegance of perfectly manicured hands and feet. For well groomed nails all of our manicures and pedicures include a nail shape, trim, cuticle care, removal of dry skin, a relaxing massage and nail paint.
Essential Pedicure
$85
Essential Manicure
$85
Add a warm Paraffin Mask $30
$30

Shellac 14 day high gloss polish with zero dry time.  Wears like gel.  Protects and helps strengthen your natural nails.

Shape & File and Shellac Finish
$55
---
Tinting
Eyebrow Tint
$18
Eyelash Tint
$25
Eyebrow Shape, Lash & Brow Tint
$55
---
Spray Tans
An amazing natural looking tan that is comparable or even superior to the results you would achieve from sun exposure.  Gorgeous Natural Colour, 100% all natural ingredients with NO Chemicals, and Done and Dry in 5 Minutes.
Spray Tan $45
Spray Tan Card also available – 5 Spray Tans $180
---
Massage
| | |
| --- | --- |
| Relax, de-stress and melt muscle tension: | |
| Super Stress Reliever ½ Hour | $65 |
| Full Body Massage 1 Hour | $109 |
| Hot Stone Massage ½ hour | $94 |
| Hot Stone Massage 1 hour | $149 |