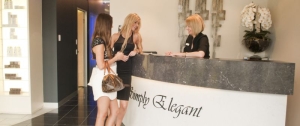 The World Luxury Spa Awards has announced Simply Elegant 'Best Beauty Salon – Globally'. It is the highest accolade and honour the best of the best, created to recognise and commend the most outstanding Beauty Salon for their outstanding efforts. The winner presents the highest-quality standards and professionalism setting a benchmark for the industry.
From the moment you step into Simply Elegant, the calming, tranquil sounds of running water begin to sooth away the stress and strain of the outside world. No pressure, no deadlines, just peaceful pampering and some time purely for you. Amidst the soft candles and calming music, each of our treatment rooms have been aesthetically designed to offer a completely luxurious experience and reflect the passion and professionalism that the Simply Elegant team have for wellness and beauty.
Our success philosophy also encapsulates exceptional levels of customer service. We ensure all therapists receive regular training and development to enhance and increase their skills. All of these components ensure we stay at the forefront of our industry.
For the comfort of all clients we have change rooms with lockers fully equipped with a robe, slippers and jewellery box. A makeup and relaxation room has makeup, hair products and perfume available to all clients ensuring they leave our salon perfectly ready for their next event.
Since establishing ourselves in 1990, we have won many National Awards including The World Luxury Spa Awards 2019 – Best Beauty Salon – Globally. World Luxury Spa Awards 2018 Best Beauty Salon, Regional Winner – Australasia. ABIA Salon of the Year 2015,2016 & 2017.  Therapist of the Year 2014, 2015, 2016 & 2018. Salon Design of the Year 2012, 2013, 2014, 2015, 2016 & 2017. Customer Service Excellence 2010, 2011, 2014, 2015 & 2016. Performance Excellence 2013. Marketing Excellence 2014, 2015 & 2016. Business Achievers Awards 2001, 2004, 2005, 2006, 2009, 2010. Business Achievers Hall of Fame Awards Bronze 2005, Silver 2009 and numerous Dermalogica Industry Awards.
From the moment you arrive in our glamorous pedicure lounge it is a step into pure luxury. Recline in comfort, then choose your relaxing treatment from our specialised Gold Class treatment menu. Select your preferred entertainment from apple TV or listen to your choice of music. Our special Gold Class light food and beverage menu is also available for your selection. Then, all you need to do is renew, relax and rejuvenate in our Gold Class rooms that have been aesthetically designed to offer a completely luxurious experience.Our Gold Class Medi Spa offers to the most up-to-date technology worldwide.
With minimal down time and maximum results, we have a large selection of treatments to have you looking and feeling amazing.With Simply Elegant Gold Class, the most innovative technology, luxurious beauty treatments, excellent customer service and globally renowned skin care brands are all at your fingertips.
Simply Elegant Gold Class – the luxurious beauty destination.
Business Hours:
Monday Closed
Tuesday 9.00am – 5.00pm
Wednesday 9.00am – 5.00pm
Thursday 9.00am – 7.00pm
Friday 9.00am – 5.00pm
Saturday 9.00am – 3.00pm
Make time for yourself, please phone for an appointment on 3881 3102 or 3205 1716
Expert Techniques
All of our therapists are fully qualified as well as having received advanced training at the International Dermal Institute. This ensures that every treatment is of the same high standards so that you can simply sit back and enjoy your pampering.
Amenities
Lockers, change rooms and make-up room are all available for your convenience.
Cancellation Policy
The treatments you select are reserved especially for you. If you need to reschedule or cancel your appointment we kindly ask for 48 hours notice so we can accommodate our other clients.